El Niño: What it is
In very basic terms, El Niño refers to a warming of Pacific Ocean waters near the Equator. It doesn't happen on a regular cycle, but on average about every 3-7 years.
It's important to know as much as we can because El Nino is arguably the single most disruptive factor of global weather patterns and ocean circulations.
From drought conditions in Australia to big winter rain and snow across the southwestern U.S., to diminished hurricane activity in the Atlantic Basin.
In the past, the effects of the warming waters were first noted off the coasts of Peru and Ecuador around Christmas, hence the Spanish name El Niño in reference to the Christ child.
It was local fisherman there who saw this change, as the warm water displaced the normally nutrient-rich coastal waters, resulting in a collapse of the anchovy fishery. So, El Nino has often been associated with poor fishing…
TIMELINE
El Nino has likely been a part of the climate cycle for tens of thousands of years, but it wasn't fully recognized and described by the scientific community until the 1960s.
I remember first heard the term El Niño in the winter of 1982-1983 in the pages of a popular Southern California sportfishing magazine.
That 82-83 El Nino was one of the strongest on record and the first one studied in real-time by the scientific community. That was just one of 26 El Ninos in the 20th century. Some impacts from previous warm phase cycles:
1957-1959 – Significant damage to kelp forests

1972-1973 – Anchovy fishery collapsed in Peru

1982-1983 – 25% fur seal pups in Peru starved to death…and there was record amounts of rain and snow across the western U.S.

1997-1998 – Major winter storm season for California.
---
---
SOUTHERN CALIFORNIA INFLUENCE
Many times El Nino will produce an influx of warm water along the West Coast due to a disruption of the colder California current system (CCS). That can result in a lot of exotic sea life not normally seen in California waters such as yellowfin tuna, dorado, big eye tuna, short-billed spearfish, even wahoo and blue marlin extending far beyond their normal range.
It's that past experience that has anglers eagerly anticipating the next push from the tropics when talk of a developing El Nino starts spreading. Anchovies are replaced by pelagic red crabs. Kelp beds, sea birds and marine mammal populations suffer.
Yellowtail and barracuda may end up as far north as Monterey Bay. The exact impact varies from El Nino to El Nino depending on the timing and the strength.
CURRENT STATUS
We are currently in the process of transitioning into an El Nino pattern. It's also referred to as a warm phase period. Equatorial eastern Pacific sea surface temperatures (SST) are showing an anomaly of 0.0, otherwise known as neutral conditions.
As you are probably aware, SSTs off the coast of California and Baja California have actually been cooler than normal through this past winter, so it's going to take some time for warming to take place…unlike 2015 when we started warm and ended with some of the warmest water anyone can remember…along with the strongest El Ninos on record.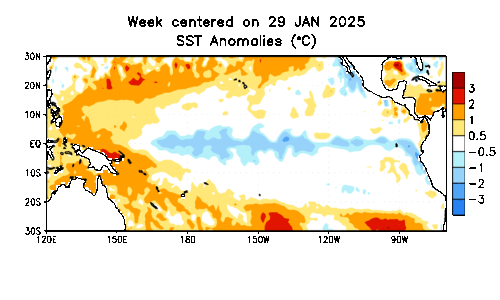 HURRICANES
An active Pacific hurricane season off the coast of mainland Mexico is another indicator of the presence of warm ocean water nearby. It's often (mistakenly) believed by many that storms down below will "push" warm water farther north, closer to California and the West Coast.
While it is true that large storms may have a small impact on the strength and direction of ocean currents, it's not enough to counteract the prevailing large-scale currents along the West Coast.
Warming will make its way north due to larger-scale changes in the California current and seasonal influence.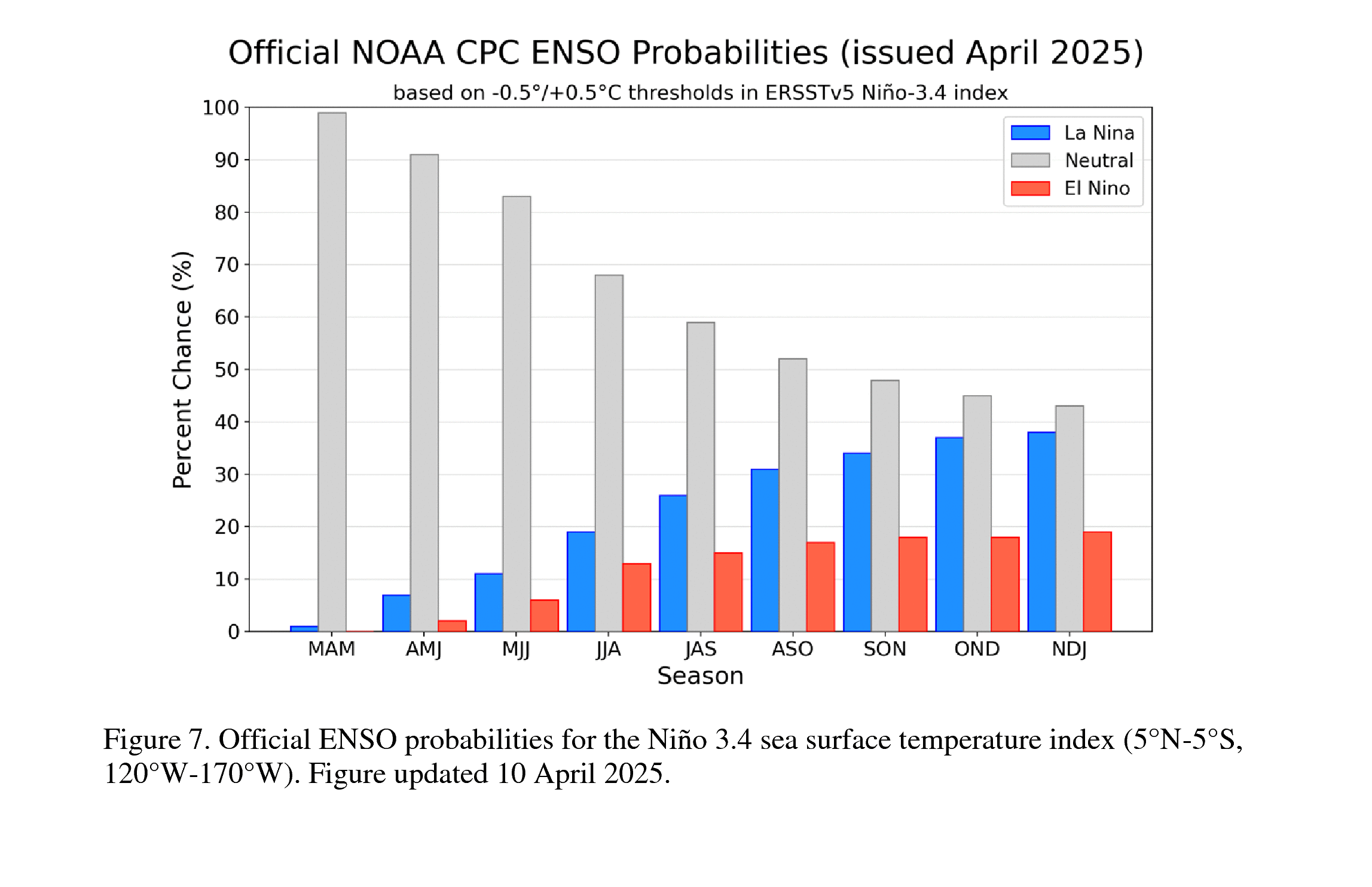 FISHING FORECAST
We'll go from cooler than normal waters to likely a little warmer than average by the end of summer heading into the fall.
It will be a gradual transition, so don't think swarms of mahi will invade the coast by the 4th of July!
The transition does, however, bode well for fishing prospects here in Southern California for our busy summer season and my favorite time of year: FALL.
We could very well see a run of yellowfin tuna, with good offshore fishing for dorado and yellowtail…especially by late September into October.
However, not every El Nino or La Nina is the same! 2022 was a cold phase (La Nina) year and we saw the biggest influx of local dorado in recent memory. We also had record snowpack in the Sierra Nevada with one heck of a storm cycle.
Likewise, the winter of 2016-2017 was the strongest El Nino on record and it was a dud of a winter storm season for California.
El Nino and La Nina are indicators of potential, not absolutes.
---
Warm phase ENSO (El Nino):
Tends to reach maximum strength during October – February
Typically persists for 9-12 months, though occasionally persisting for up to 2 years
Typically recurs every 3 to 7 years